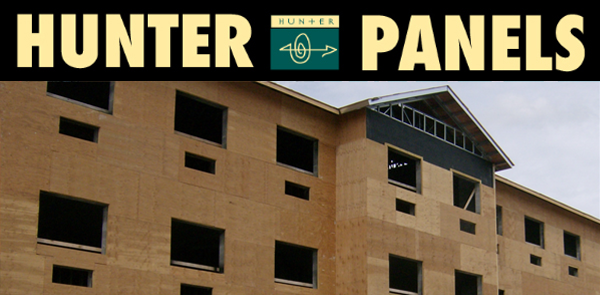 SPECIFYING COMMERCIAL WALL CONTINUOUS INSULATION

Make the energy-efficient choice for your next commercial project with Hunter Panels Xci Ply Structural Insulated Sheathing. By combining the features of a polyiso foam core, a premium performance glass facer, and fire-treated plywood, commercial wall assemblies can go up faster with greater thermal efficiency.
Xci Ply Advantages:

• Single-source responsibility for product delivery
• Meet the most current energy standards
• Thinner Wall Profiles
• Increased R-value
• Simplifies cladding attachment
• Multiple NFPA 285 complaint Xci Ply assemblies


Learn more about Hunter Xci Ply HunterPanels.com

READY TO DIVE IN? XCI
RESOURCES AT YOUR FINGERTIPS

Your Xci resources are available online at HunterPanels.com. Download spec docs, read case studies, watch product videos and more all in one location.

QUESTIONS ABOUT HUNTER Xci? GET REAL ANSWERS

Want to talk to a real person about Xci? The Hunter Panels Xci team is ready to answer any questions you have about the system. Please feel free to reach out anytime at HunterPanels.com.


| | | |
| --- | --- | --- |
| | HunterPanels.com | 15 Franklin Street Portland, Maine 04101 USA | 888.746.1114 | |